The Laundress – Denim Wash & Fabric Fresh Classic Duo
C$48.00
We invest a lot in our denim, so it's important to care for it properly. Designed to give jeans a freshly laundered yet perfectly worn-in feeling, this duo thoroughly cleans, softens, freshens, and preserves the color of all your favorites.
This duo includes:
Denim Wash $ 29
Fabric Fresh Classic $ 24

Scent & Ingredients
Our start-to-finish laundering collection in Classic scent is the ultimate "clean laundry smell," blending lily of the valley and jasmine with sweet musk, sandalwood, and a touch of citrus.
Nontoxic, biodegradable, and allergen-free.
Color and texture may vary with natural ingredients.
Free of petroleum, phosphate, phthalates, and artificial color.
Cruelty-free. No animal by-products.
All The Laundress products are tested on Gwen & Lindsey.
Made in the U.S.A
Tips & Tricks
1 To launder, use

with cool water for colored denim and hot water for white denim. 2 Use

to freshen items between launderings. 3 Pretreat stains using

, especially targeting dirt-prone areas such as cuffs, hems, and pockets. 4 Launder white denim with

in hot water for extra whitening and brightening. 5 To protect embroidered, embellished, broken in, or distressed jeans, wash in a

and line dry. 6 Between washings, steam jeans with the

to eliminate
odor-causing bacteria.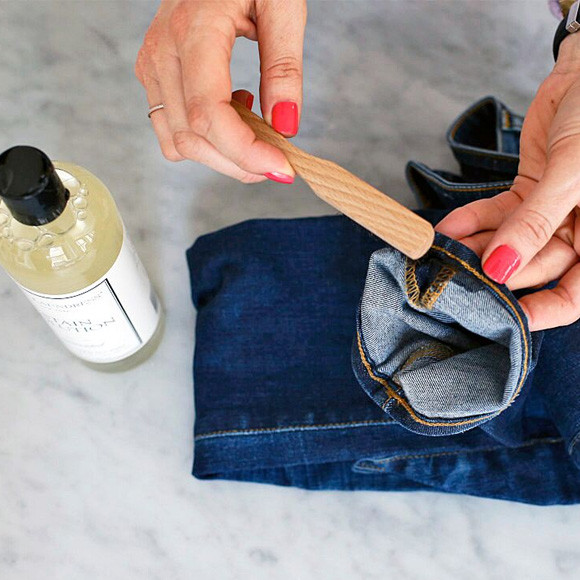 Pretreat
Treat stains with Stain Solution or the Wash & Stain Bar. Focus on susceptible areas such as the pockets and pant hem.
Stain Solution is ideal for protein and tannin stains, such as wine, coffee, ink, grass, urine, blood, and old, set-in stains such as pit stains.
The Wash & Stain Bar works the material to remove dirt, grease, oil, and makeup.
To remove odor, presoak the item for 30 minutes in cool water mixed with ¼ cup of Scented Vinegar.
Have Raw Denim? Dye transfer and bleeding can be a "dark" reality of raw denim. To help set dye, presoak in a bath of cool water and Scented Vinegar. Always wash separately.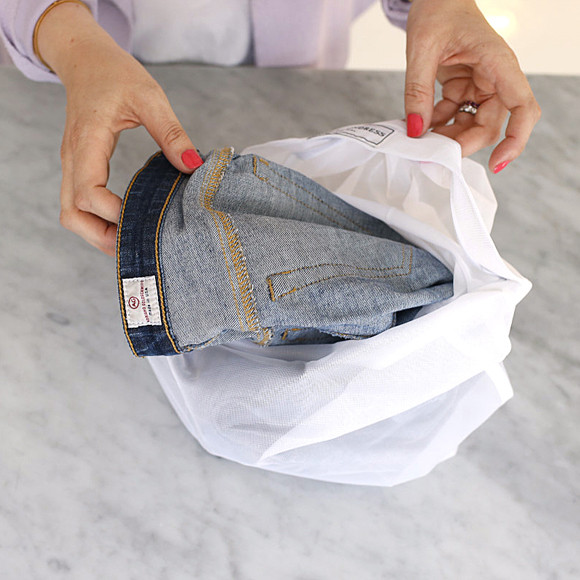 Machine Wash
Prepare to wash by turning denim inside out to prevent abrasion and lengthen the life of colorant dyes.
Place inside of a Mesh Washing Bag to protect zippers, buttons, and any special detailing, embellishment, or distressing.
Select the normal cycle on your machine and use the appropriate water temperature:
Make sure the water temperature is cool when laundering blue or dark denim.
When washing white denim, select hot water and add 1 capful of All-Purpose Bleach Alternative to the load.
Add the appropriate amount of Denim Wash according to the machine type and load size.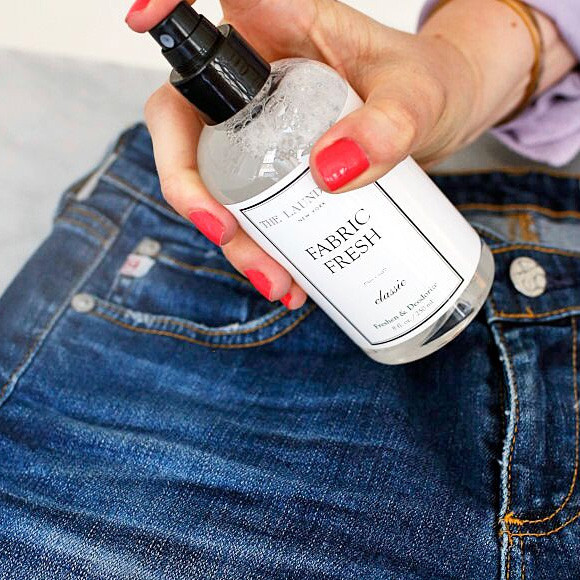 Dry & Finish
Avoid the dryer if you can! Line dry denim to prevent fading, shrinking, and extra "wear and tear."
It's not necessary to launder denim after every wear. Use Fabric Fresh Classic between wears to keep denim smelling fresh.
Freezing denim is not a cleaning method; however, steaming will help remove bacteria, and Fabric Fresh Classic has antibacterial properties.
Always launder denim prior to making any alterations in fit or length. Use hot water and a hot dryer cycle to ensure there will be no further shrinkage.
Made in
USA